From boating to beaches, there's a water activity for everyone on Okanagan Lake. Many of these activities even come with side-benefits to your own health, giving you even more reason to take part in them. Plus, many of them are close to real estate, especially in West Kelowna, and only a short drive away from city centres. With that in mind, here are some of the best ways to experience one of the greatest lakes in the interior.
Relaxing Non-Motorized Boating
If you're looking for a bit of a workout, plus enjoying the lake at a slower pace, give kayaking or stand up paddleboarding a try. Both are low-impact activities so they're not hard on muscles. Kayaking, in particular, is great for aerobic fitness, strength, and flexibility. Plus, you can strengthen your cardio, back, arms, shoulders, and chest from paddling. Paddleboarding works even more of your body, because, you know, you're standing up and the paddling motion uses your entire body. It can also be a great meditative exercise since you can listen and move with the gentle rocking motion of the waves while keeping your balance.
All Types of Powered-Boating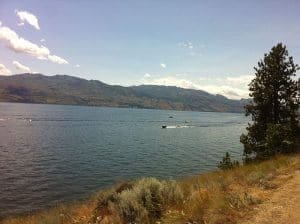 Of course, boating goes hand-in-hand with large bodies of water and Okanagan Lake is no different. If you have your own, choose a sunny calm day, launch your boat, and enjoy a day of fun. If you don't have a boat there's still plenty of options. You can rent anything from smaller boats to more powerful ones that truly test your ability to hang on while tubing. Looking to have a relaxing time with a large group of friends on the lake? You can do that too with party cruises and single or double-decker pontoon boats. There are also options for those who just want to zip around on a Sea-Doo alone or with a friend or partner.
A Variety of Excellent Beaches
Although boating is great, beach days are just as good and the Okanagan has many great places to get a tan, swim in the lake, or even go on those long walks on the beach.
Two great popular beaches in West Kelowna to enjoy with your friends are Willow Beach and Pritchard Park. Willow has some excellent tables for picnics and even a small dog beach for your pooch to enjoy the lake. Pritchard is more of a dual bonus, with both an excellent beach and grassy park area to toss a frisbee or run around with your kids.
In Kelowna, Boyce-Gryo Beach has plenty of beach volleyball courts, outdoor ping pong tables, and a large playground with two zip lines: one on the beach and the other that goes out to the lake. City Park has an even longer stretch of beach, plus basketball courts, open fields, and close proximity to the downtown for shopping and food. Both offer a great time for friends and families and are the perfect way to make the most of a sunny day.