The Tallus Ridge community is nestled in a natural corridor that takes you through Shannon Lake and into Rose Valley. Because of the scenic mountains and trails on either side of the corridor, the Tallus Ridge community welcomes visitors of all shapes and sizes.
This includes a stunning variety of wildlife local to our area and can often be found flying or wandering around the community. It's this natural backdrop that makes Tallus Ridge such a beautiful place to reside. From the natural landscape, trees, and plants, to the wildlife that calls this neighborhood their home, there's a lot to explore. 
In this article, we wanted to take a look at a few of the animals that can be spotted in and around the area.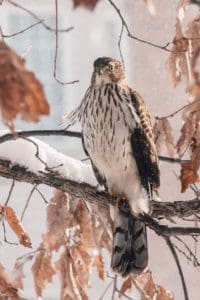 Red-Tailed Hawks 
The Red-Tailed Hawk can be found nesting in several elevated areas around the Tallus Ridge community. This beautiful bird of prey can be found throughout a large part of North America, from Alaska, throughout Canada, and as far south as Panama. Sometimes referred to as a 'chicken hawk' (though they rarely, if ever, hunt chickens), are extremely diverse creatures with the ability to acclimate to their surroundings, whether it's a heavily forested area or an arid desert landscape. 
While their appearance can alter by subspecies, these graceful hunters are easily identified by the dark brown nape around their neck and at the crest of their head giving them a sort of 'hooded' look. 
See if you can spot the Red-Tailed Hawk to your left as you drive up into Tallus Ridge along Mountain Hollow Lane. A few have been spotted nesting in the trees above that area.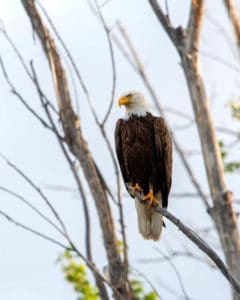 Bald Eagles 
The Bald Eagle is common to the Okanagan valley, and can often be seen circling the skies around Tallus Ridge. Their residency at Tallus isn't really a coincidence as they tend to favor old-growth trees and large bodies of water. With all the forested areas, Shannon Lake right across from the community, and the Okanagan Lake just a stone's throw away, there's plenty for a bald eagle to love. 
You can often find these birds gliding as they scout for easy prey. They're quite easy to spot thanks to their massive wingspan and distinct coloring. The plumage is often dark brown (it looks black from a distance), with a white head and tail, and yellow beak. 
Watch for these hunters scouring the nearby forests and keeping a watchful eye on Shannon Lake for their next snack.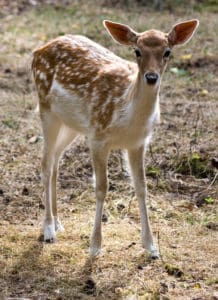 Deer 
Finally, one of the most common natural inhabitants of Tallus Ridge is the local deer population. Just check the Tallus Ridge Instagram for pictures of deer snapped by our residents! 
BC is commonly home to three types of deer: mule deer, black-tailed deer, and white-tailed deer. At Tallus Ridge, you're more likely to see the white-tailed deer as they appear to be the most common to the area. You'll find them wandering the streets, on the nearby trails, and occasionally in your backyard. Don't worry, they're perfectly friendly and are usually just looking for something tasty to munch on. 
As with all communities that cater to its fair share of wildlife, it's a good idea to make sure you're not leaving food outside and that garbage cans are closed. That way you can keep watching nature from afar rather than have it staring at you through your kitchen window.